In Stock
Get Together Duo Bluetooth® Speakers
Featuring 20 hours of playtime from the portable right speaker and a mains-powered left speaker, your days will be filled with rich, deep sound whether you're enjoying music at home or chilling outdoors.
These compact yet powerful speakers fit perfectly on your desk, console, or counter while their signature bamboo design adds a modern, natural touch you'll be proud to display.
Enjoy full-range crisp sound, convenient USB-C charging, and Bluetooth® connectivity to seamlessly pair with your phone, TV, laptop, or wireless turntable.
SUPERIOR SOUND: Experience rich, powerful stereo sound whether you're working from home or chilling outdoors with the crew. Each speaker delivers high-quality bass and audio clarity with a 2*15W Bass Rating and 2*5W Tweeter Rating.
RECHARGEABLE & COMPATIBLE: The portable Right speaker offers a full 20 hours of playtime from a rechargeable battery and includes a USB-C charging port for all-day listening. Pair them with any Bluetooth-capable device like your Stir It Up Wireless turntable to complete your sustainable sound system. Plus, advanced Bluetooth technology allows your device to be up to 98 feet away from the speaker while still maintaining connection.
PREMIUM FEATURES: Get Together Duo features full-range drivers for big sound and seamless Bluetooth® connectivity. Enjoy both speakers as a pair to blast powerful stereo sound or switch to Mono Mode and take the Right speaker with you for a true wireless experience. Additionally, an auxiliary input jack allows you to connect it to record players, TVs and other audio devices.
SUSTAINABLE MATERIALS: Embrace your natural style with Marley's message of craftsmanship and sustainability. Our speakers are crafted with natural bamboo, our eco-friendly REWIND fabric and REGRIND silicone, recyclable aluminum, and delivered in 100% recyclable packaging.
Enjoy full-range, rich stereo sound for an unmatched listening experience with the Get Together Duo wireless speakers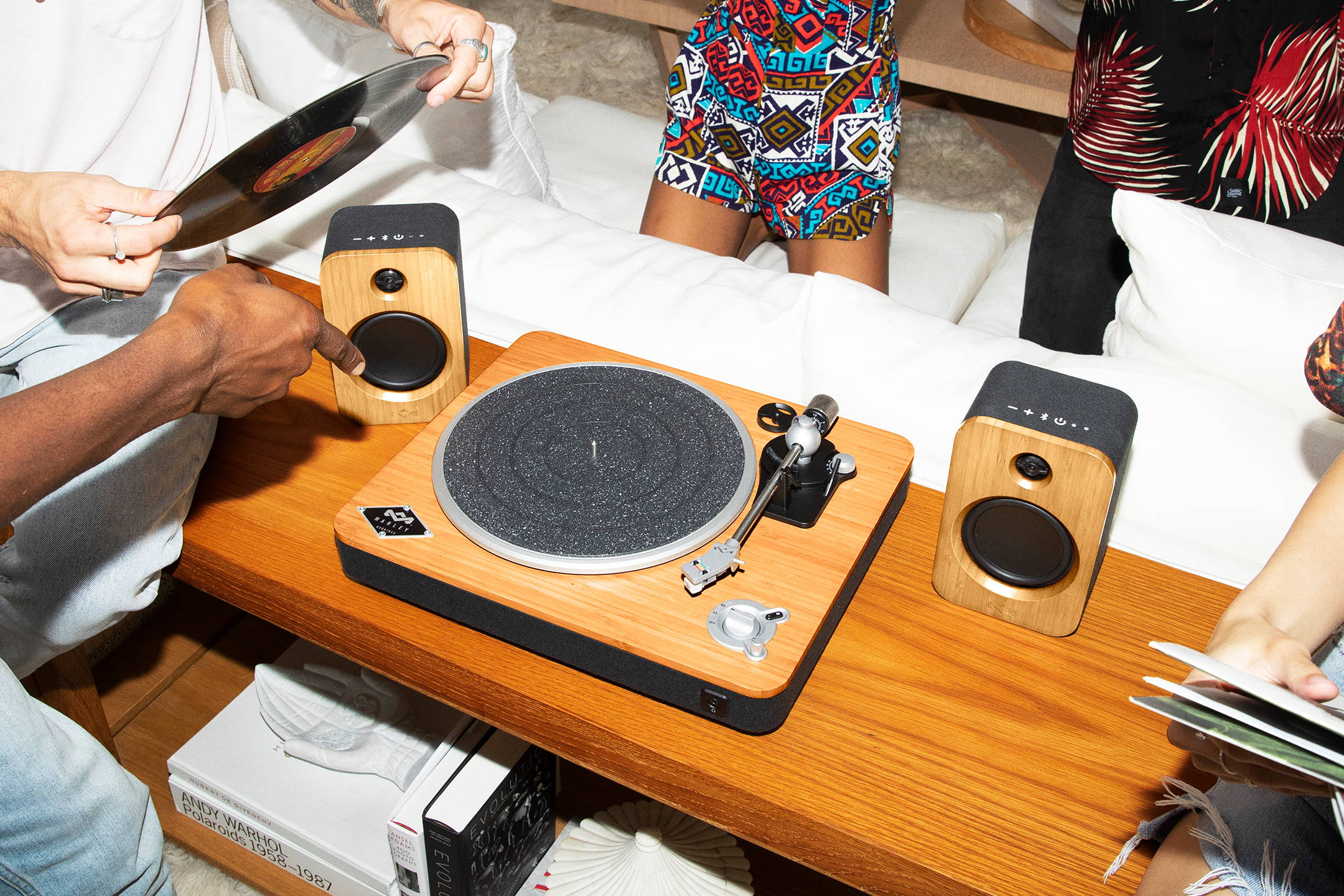 Use the Get Together Duo speakers as a pair to blast powerful stereo sound
Or keep the good vibes flowing from place to place with the portable Right speaker's 20 hour battery life
Mindfully chosen, the House of Marley materials keep us consciously connected to our vision for a sustainable future. Get Together Duo are crafted from Bamboo and REWIND™ Fabric. We choose bamboo because it is one of the fastest growing plants in the world.

REWIND™ Fabric is soft, hard-wearing and woven from recycled materials (a balanced blend of 30% reclaimed organic cotton, 30% reclaimed hemp and 40% recycled PET) to curate our signature style.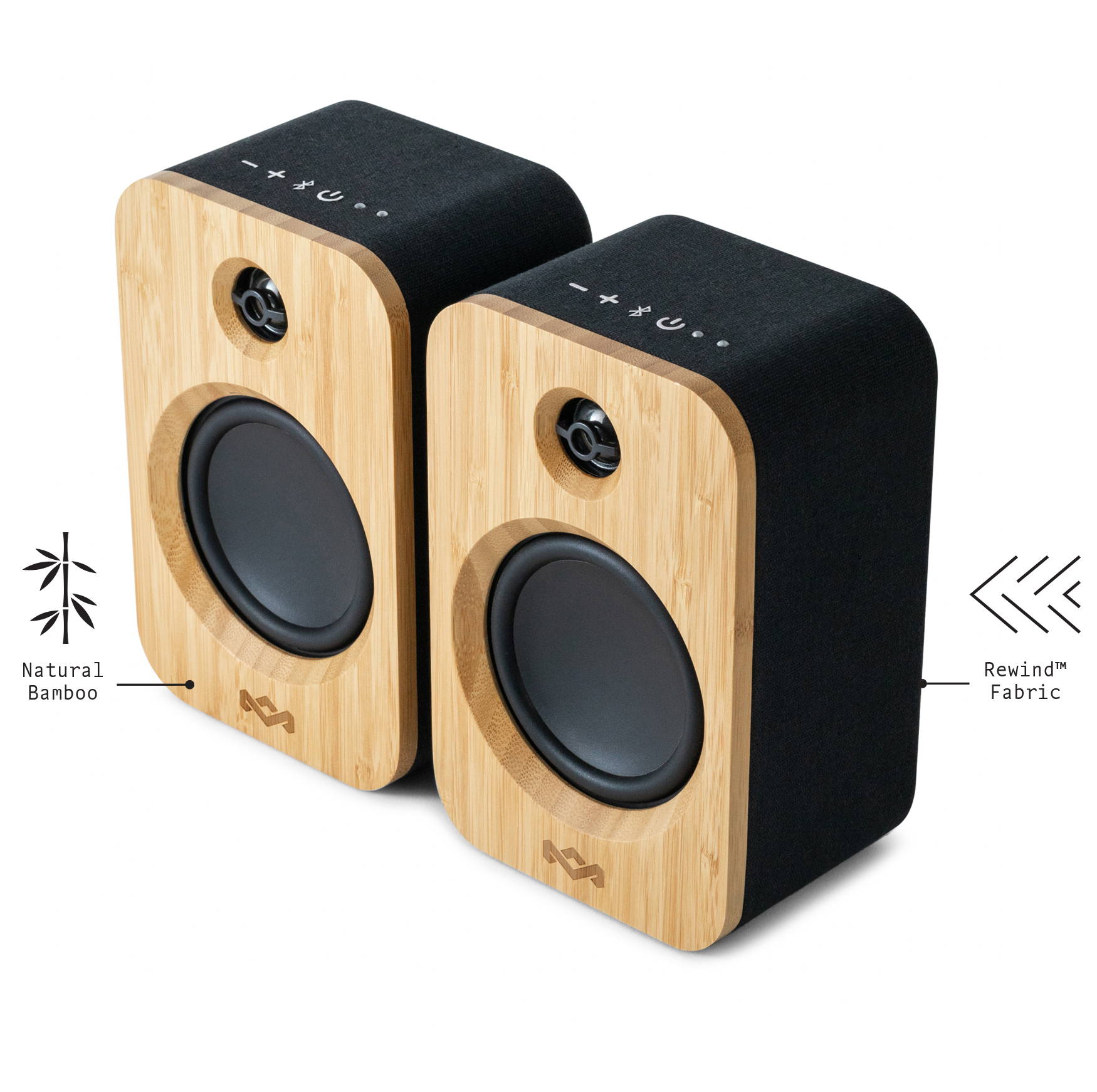 What The Press Is Saying About Get Together Duo


"These speakers boast wonderfully impressive audio in a pleasantly compact package…and they just look so d!%n good paired with our Stir It Up Wireless Turntable."
"House of Marley's Get Together Duo Speakers are Your Earth Day Celebrations' Perfect Companion"




LEFT SPEAKER
MAINS POWERED

RIGHT SPEAKER
20 HOUR BATTERY


Get Together Duo Speakers, RCA to RCA cable, USB-C Charging Cable, Mains Power Cable, 2 AC Adapters, Quick Start Guide, Warranty Booklet, Welcome Card, and Sticker.
Bluetooth Version:
Wireless Range:
Transducer:


Frequency Response:
Impedance (ohm):
Sensitivity:
THD:
5.0
10m
Φ115mm (15W) * 2
Φ30mm (5W) * 2
20Hz - 20kHz
8Ω
83±3dB@1kHz@1W@1M
<5%
Battery:

Battery Life:


Battery Capacity:
Mains Power Supply:


Charge Time:
Product Dimensions:
Product Weight:
Lithium Ion
20 hours
(right speaker only)
7.2V 5200mAh
DC 15.0V, 0.8A
(left speaker)
Full Charge: 8 hours
20.1 x 10.5 x 13cm (x2)
2.45kg